Cooper Lighting has introduced the Halo RL56 LED Retrofit Baffle Trim. Capable of being used in both 5-inch and 6-inch compatible housings, the recessed baffle trim with an integrated LED module consumes a minuscule 9.4 watts while delivering over 600 lumens, which is comparable to a 65W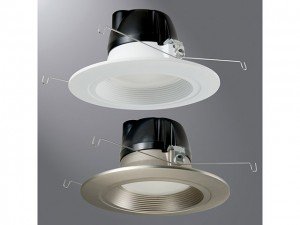 BR30 lamp you would find in most recessed downlights. By changing an existing incandescent style trim out with this new LED offering a business could run this light six hours a day an entire year and still be under $3.00 for annual operating cost.(based on .10kwh)
Designed for new construction, remodel and retrofit installation, the Halo insert is designed to be used in both 5 and 6 inch halo cans(H5 and H7 series), as well as similar 5-inch or 6-inch compatible recessed down light housings offered by other manufacturers. Color rendering is excellent at 83 CRI and a warm, white color temperature of 3000K, the Halo LED RL56 Retrofit Baffle Trim features a convex lens that provides even illumination .
The Halo RL56 series is available in either Matte White or popular designer Satin Nickel. The integral LED driver offers 120 volt dimming capability which allows it to be dimmed down to 15 percent with standard dimmers and 5 percent with select dimmers. The Halo RL56 series is designed for a long life of use with greater than 70 percent of initial lumens at 50,000 hours.
Installation could not be simpler with included adapter and torsion springs or optional 5-inch and 6-inch friction blades.
Several other key features make this a great upgrade to any recessed lighting application. The trim is ENERGY STAR qualified for use in both residential and commercial applications. The die-cast housing cons
Hovey Electric looks for the best lighting applications to satisfy the needs of our clients. Each facility is a little different than the last.
Typcially we need to see the inside of your facility first hand to determine what type of lighting you have now and to measure the lighting levels.
Hovey Electric can perform a complete audit of your facility to determine what is right for you, for FREE. Let's take a look at your facility, it's FREE and no obligation required