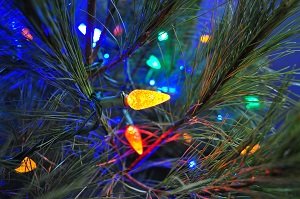 Everything You Ever Wanted to Know About C7 LED Christmas Lights, But Were Afraid to Ask
It's that wondrous time of year again to trim your home , your Christmas trees, and your commercial business with your Led Christmas lights!
If you haven't converted all your lights over to LEDs yet, you'll want to do that this season to save money, help the environment, and eliminate the stress of worrying if a whole strand of lights in your display has suddenly burned out.
Whether you have a commercial building to decorate, an entire house, long driveway, and garage, or a big apartment window, you'll want to consider the C7 LED Christmas lights this year.
What does C7 LED mean?
C7 refers to the size of the base of the bulb; from base to tip the C7 bulb is a little over two inches high. C7 Christmas light bulbs have an E12 base (the same size base as the bulb you use for a traditional night light).
The letters LED stand for Light Emitting Diode. LED C7 lights offer energy savings and the bulbs are virtually unbreakable with normal use and handling.
Are C7 Christmas bulbs new?
General Electric first introduced C7 lights back in 1934. They were considered high-end and the top-of-the-line; they were very pricey and only the very wealthy could afford them. Today, C7 bulbs are an affordable and popular option for all Holiday decorators!
How are C7s typically used?
C7s are commonly the Christmas light bulb of choice used in traditional outdoor holiday trimming projects. They are perfect for outlining walkways, driveways, fences, and roof lines. Because of their unique size compared to many little lights on the market today, the C7s are often used to decorate historic buildings, Victorian-style homes, and centers of towns.
When purchased in Christmas lighting strings, they're great for hugging the trunks of large outdoor trees or throughout evergreens. Since the bulbs brilliant and big, they are large enough to be enjoyed from a distance.
Why are C7s the bulb of choice for many installers?
Simple. These bulbs are easy to screw in place and maintain throughout the season. Where bigger lighting projects are involved, ease of use and minimal maintenance save a lot of time, money, and hassle.
Do C7 LEDs offer any options in their appearance?
Yes. C7s are available in an array of vibrant holiday colors with a triple-dipped dye patch. In addition, you can choose from steady glow or twinkling lights, and between transparent coatings or frosted coatings.
Further choices include C7 bulbs that change color, illuminate like strobe lights, and come in cascading LED tubes or falling icicles. If you prefer to customize the color patterns and the wire lengths of your strings of bulbs, you'll want to buy stringers vs. pre-lamped strings (where the bulbs are already screwed into the wire and don't give you the freedom to change the color pattern ).
Although you have to purchase the bulbs separately with this option, the bulbs have nickel bases to protect from corrosion, are triple dipped, and allow for that customization of light themes that you seek. Further, the stringers are able to drain water from their sockets from their strategically-placed weep holes.
However, if you getting a late start in trimming your property and time is a factor, pre-lamped lights come in a variety of different colors and are ready to hang instantly.
Meticulously-designed Christmas light trimmings make a lasting impression all year long; neighbors, visitors, and even those out for a late-night stroll or drive will appreciate, admire, and remember your Christmas stunning lights year after year.