An electrical ballast is a device intended to limit the amount of current in an electric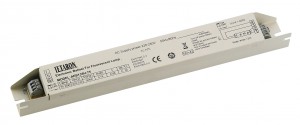 circuit. Ballasts are utilized in fluorescent lighting to limit the flow of current through the tube.
If a ballast was not used, the current would rise to levels that would destruct the fluorescent tube rendering it useless.
Ballasts vary greatly in complexity. They can be as simple as a series resistor as commonly used with small neon lamps or light-emitting diodes (LEDs) or complex, computerized, remote controlled electronic ballasts that can often be found in conjunction with fluorescent lamps.
Choosing the right ballast Ballast choices can be quite confusing. Here are some of the best choices for ballasts for your energy efficient fluorescent application.
1.Electronic Ballast
Electronic ballasts are about 12 percent more efficient than conventional magnetic ballasts. The electronic ballast eliminates the flicker commonly associated with fluorescent lighting.
The electronic ballast also eliminates the hum that you hear in older style fluorescent lighting. The most efficient units are high-performance ballasts as defined by the Consortium for Energy Efficiency.

2.Instant Start Ballast
This is the most efficient type of ballast. With instant start ballasts you must know the burn time of your lamps. Instant-start is a good choice for applications where the lamps burn for 6 hours or more.
With frequent on/off cycling, you will notice that your lamp life is shorter meaning it may not be the best ballast for your application.

3.Programmed-Start Ballast
Programmed-start ballasts, also called programmed rapid-start ballasts, represent the next step in the evolution of rapid-start technology. Their use increases lamp life but carries some penalty in efficiency.
They are the best choice in applications where lights will frequently be turned on and off, as often happens when occupancy sensors are used.

4.Universal-Input Ballast
Universal-input ballasts typically accept any input voltage between 120 and 277 volts. They make retrofitting easier and reduce stocking requirements, but provide slightly lower efficiency than dedicated-voltage ballasts.
5. Ballast Factor
Electronic ballast's come in different "grades" of efficiency, typically .77, .88, and 1.00. What this means is if a lamp is 32 watts and a .88 ballast is used the result will be a lamp that is "under driven".
More simply put it will not consume a full 32 watts, and lamps will last longer. The only downside is a slight loss of lumen output due to the lamp not being pushed 100%.
Most installations that are done for incentives will utilize the .88 ballast because of the energy and lamp savings that are produced.
Keep In Mind....
The important thing to keep in mind is to make sure that lamps and ballasts are compatible. Most lamps are only compatible with one starting method; the major exception is high-performance T8s, which can use either rapid- or instant-start ballasts.
Also, most lamp and ballast manufacturers offer a better warranty when used in conjunction with each other.
For Example, A GE ballast with Sylvania lamps may only offer a 1 year warranty. That same GE ballast used with GE lamps will give you a 2 year warranty.
Learn More About Energy Efficiency
The best way to learn more about energy efficiency is through our ;
Photo Credit: http://news.thomasnet.com